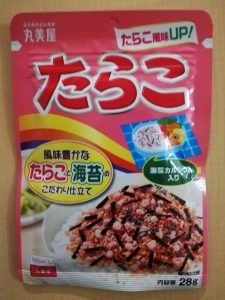 What's "Tarako"
"Tarako"「たらこ」 is a salted cod roe with ovaries. By the way, what you put in pickled red pepper is called "Mentaiko"「明太子」. (Unexpectedly, Japanese people do not understand the difference between the two.) Tarako is excellent with rice, and besides "Tarako pasta" is standard in Japan.
It became a song, Tarako
"Ta~rako~♪Ta~rako~♪Plenty of Ta~rako~♪"
Such song was flowing in the Japanese from TV in 2004, more than 10 years ago from now. This song is a commercial song broadcasted when Kewpie, known as a manufacturer of mayonnaise, releases "Kewpie Pasta Sauce Tarako". This song which remains in the ear, after that CD release, it is frequently remade and broadcasted until now. In addition, "Kigurumi" who was singing this song has won the 48th Japan Record Awards Special Award 2006. (Do your best! Japanese music industry in Japan!)
Evaluation of Tarako Furikake
I'd like to write an evaluation in Japan about Marumiya Tarako Furikake.
In the furikake series of Marumiya, there is popularity next to "Noritama". After all, Tarako itself fits rice, so it is popular as furikake too. Also on the internet, it was compared with other company's Tarako furikake. Although it was not the first place here, it is highly appreciated as "it is seasoned to accept everyone." Even in the Furikake industry, since Tarako is a fierce battlefield, I think that this evaluation is wonderful.
Recommended Recipes
Recommended for pasta after all! Mix boiled spaghetti and "Tarako Furikake" and it will be completed. It is tasty not to be defeated by genuine 'Tarako pasta'. It is also mixed with potato salad. This is called "Taramo".
"Furikake Tarako" ⇒ from here