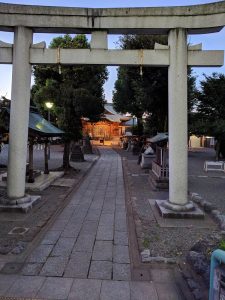 In Japan there is a Bon Fest holiday instead of a summer vacation. New Year 's, Golden Week and Obon vacation may be said to be the three big Japanese holidays.
The holidays based on traditional culture are New Year and Obon.
What is Obon? 
We call the period during which our descendants and our descendants will provide supporters and pursuits as Obon, so that our ancestors and those who passed away will not be suffering and will be buddhaed. Especially, We call the Bon festival which  will welcome for the first time since the end of the 49th day after the death of people, called the early basin (Hatsubbo) or the new basin (shinbun, niibon, araoban), and the white entrance of the house and the white tomb There are customs to put up lanterns and to put up lanterns with white and red color in the graves other than the early basin, especially to thicken them. Currently, Kansai often refers to the four days from August 13th to the 16th in August (In some parts of the Kanto etc., it may refer to the four days from July 13th to the 16th).
A visiting a grave and a summer vacation.
In recent years religious implications have become thinner and become a synonym for the summer vacation season.
Let's go on a trip to Japan during the Bon Festival!
Please enjoy the atmosphere.