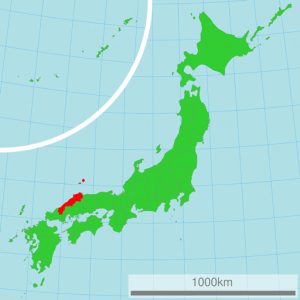 Author: Lincun [CC-BY-SA-3.0], Via Wikimedia Commons
Introduction of Shimane prefecture
Shimane prefecture is on the west side of Honshu, Japan, faces the Sea of Japan. It is the prefecture with the second smallest population. It is a relatively warm climate with many rains. The fishery is thriving and the catch of the Red Snow crab is the nation's top rank.
The production facility of the Tatara steel production in the mountainous district of Yunnan City has also become the stage of the Ghibli movie "Princess Mononoke". Shimane prefecture is also from Nishikori Kei who is active as a top player of tennis.
Izumo Taisha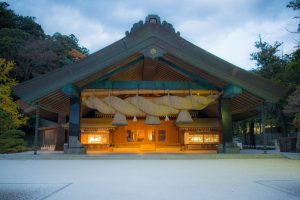 Author:mezza9 (CC BY-NC 2.1 JP)
Izumo Taisha shrine famous for the god of marriage "Ookuninusino Ookami (大国主大神)". Every year in October of the lunar calendar God gathers from all over the country.
Lake Shinji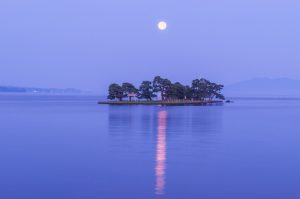 The seventh largest lake in Japan. The beautiful sunset scenery of Lake Shinji is selected as "One hundred sunsets". The picture is the moonlit night. This is also good. "Shizimi" which is caught in Lake Shinji is popular.
Adachi Museum of Art
Collections of contemporary Japanese paintings, ceramics, sculptures, etc. centered on modern Japanese paintings and painters of the Japanese Academy of Fine Arts. The vast Japanese garden boasting 50,000 tsubo (≒16.5ha) is also famous. It is an American japanese garden specialty magazine and has received the highest rating in Japan for 14 consecutive years.
If you are interested, please visit Shimane.