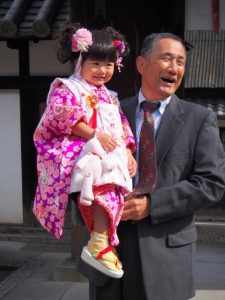 After the hustle and bustle of Halloween, Japanese traditional events will come. It is "753". 753 is an annual event in Japan that celebrates the growth of children 7, 5, and 3 years old, a festival that makes a report, appreciation and prayer with "Shichigosansei" at shrines and the like.
It is said that it began in the Edo period, the Kanto region and spread nationwide.
In the present , Children usually dress up in kimono or hakama and go to shrines or temples to pray for their healthy growth and longevity with their parents. They also take commemorative pictures at a photo studio.
Especially the excitement of grandpa and grandma is amazing.