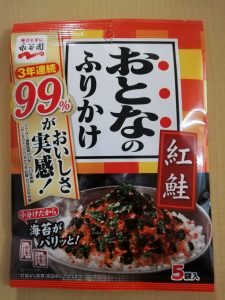 Japanese and salmon
It is the salmon that always enters the highest ranking of your favorite fish rankings that Japanese fish lover likes. It is OK even if you bake, good even with sashimi. From breakfast dishes to Makunouchi lunch boxes*, it is exactly a standard and it is the royal road.
Makunouchi lunch boxes* … lunch box with white rice and some side dishes
Junk food in the sea?
Why salmon is so popular? There are various reasons, but there are three major points. 1, inexpensive thing. 2, since there is oil, it increases umami when it is broiled, and good compatibility with seasoning such as mayonnaise. 3, distribution is stable, and it is possible to eat something delicious to some extent anywhere.
 This, that is, junk food. So, if you are a full-fledged sushi shop, there are parts that do not serve salmon. But it is good, is not it? Junk Food. The delicious one is delicious. In the first place, what you are looking for is different from cheap conveyor belt sushi and high sushi restaurant not turning around. At a cheap sushi restaurant you have fun asking for variations without hesitation! When you came to Japan, by all means, please go to both sushi restaurants! It is fun!
Furikake adults?
Such a Japanese lover "Salmon". It is also popular as a taste of Furikake, various types are on sale at various manufacturers. This time, we will deliver big hit products from Nagatanien. Its name is "Furikake adults". As the name "adult", adults and children are satisfied tastes satisfactory.
Also, subdivision packaging is one of the attractions. Because it can be placed next to the lunch box and seasoning at the table, is not it easy to get it in your hands? By all means, please also be obsessed with the "adult" charm!
Recommended Recipes
I advise you to mix it in eggs and make it an omelet. One furikake on one egg is adequate. Since the taste sticks firmly to furikake, other seasonings are not necessary. Please try it.
"Furikake adults Red salmon" ⇒ from here